In July, the large-scale original teaching case Midea Refrigerator, The "Go Global" Odyssey and its corresponding instruction Midea Refrigerator: The "Go Global" Odyssey—Teaching Note in business administration led by Prof. LIU Zhiying, director of Case Center of the School of Management, were selected into the IVEY Business School Selected Case Bank, and issued online (the case numbers were 9B17M102 and 8B17M102 respectively, with websites of https://www.iveycases.com/ProductView.aspx?id=86439 ).
Taking Midea refrigerator as the research object, this case conducted an in-depth analysis of its expansion strategy of FDI (foreign direct investment) by virtue of the national Belt and Road Initiative under the context of export stagnation confronted by Midea Group, one of China's leading manufacturers and exporters of refrigerators. The case involved strategies by the advanced management and international decisions, and was suitable for applying into the course of International Management or International Trade at the bachelor or MBA level.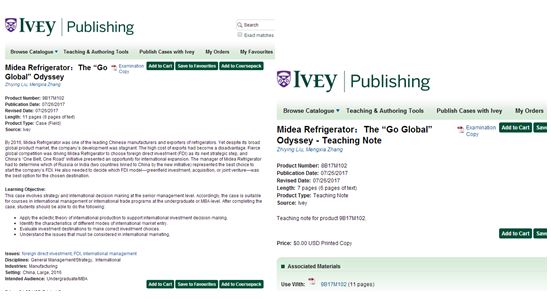 With the emphasis and promotion of Professor YU Yugang, executive dean of the School of Management, this case gained splendid achievements, having exerted deep influences among business schools nationwide. As of now, our school has had three cases included into the IVEY Business Scholl Selected Case Bank, 20 into the "National Top 100 Excellent Management Cases" (ranked 7th nationwide), and 212 into the "China Management Case-sharing Center " (ranked 2nd among the country). In the 8th "National Top 100 Excellent Management Cases", our school had 4 cases nominated, which were, respectively, A Long Way ahead: Entrepreneurship Path for Lanry Electronics co-authored by LIU Zhiying, CUI Wanjuan and CHEN Jiumei, Should Shenxiang Group Choose HRO or OEM? written by ZHANG Zengtian and WU Ruirui, From "King Burglar" to the "Leader of Recycling Economy" co-written by XU Yi, LU Chen, SUN Xingyu and ZHOU Chuiri, and Brother Gua's First Cup of Tea: Prelude to Hui Liu's Rejuvenation Strategy finished by ZHA Yong and ZHANG Yaqin (in no particular order).

Case teaching is the most common teaching method of MBA/EMBA, and is also one of the most important indicators measuring the running quality of MBA/EMBA major, providing valuable grounds for our school to pass the AACSB and AMBA certifications.