Near 50 EMBA students of year 2010 took a study tour in Bozhou, Anhui during 20-21 May, which is the production base of Anhui Gujing Distillery Co., Ltd. The students and teachers were received by Bozhou government and the leaders of Gujing Group.
The group of students and teachers arrived at Bozhou in the afternoon of 20 May, when Gujing Group prepared a welcome banquet. The banquet was hosted by ZHONG Zhaoji, general manager of Gujing Sales Company.
On the morning of 21 May, the group visited Gujing Spirits Culture Museum and the production base of Gujing Group. The museum was built in 1994 and open in 1996, so as to promote the spirits culture of China and to show the history of Gujing. The museum includes manual operation room, tourist brewing experience zone and liquor stores. Then students looked around in factories of Gujing Group.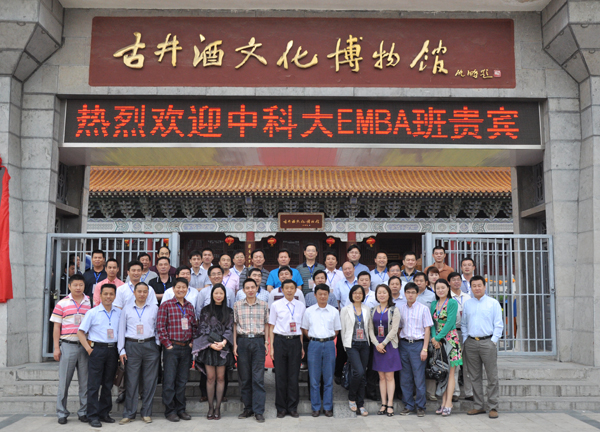 After visit, an exchange meeting was held between Bozhou government and EMBA group. In the meeting, YUAN Fang, Bozhou Municipal Party Committee and deputy mayor, gave a short introduction to the history and culture of Bozhou. LI Yongyuan, chairman of Bozhou Municipal Investment Promotion Bureau, made an explanation about the investment promotion policies. EMBA students showed a high interest in Bozhou and the investment promotion policies, and exchanged views with the representatives of Bozhou Government.