The School of Management held an Appointment Ceremony for its International Advisory Committee in the afternoon of 21 November. XU Wu, Party Committee Secretary of USTC awarded the appointment letters.
To develop the strategy of internationalization, to strengthen the international exchange and cooperation, to improve discipline development and to respond to AACSB and AMBA feedback, the School establishes the International Advisory Committee. The three members of the committee not only have extensive reputation but also have rich experience in business school strategy planning. Prof. Christopher S. Tang from UCLA is appointed as the chair of the committee, and the other two members are prof. WEI Kwok Kee from Hongkong City University and prof. Chung-Piaw Teo from Singapore National University.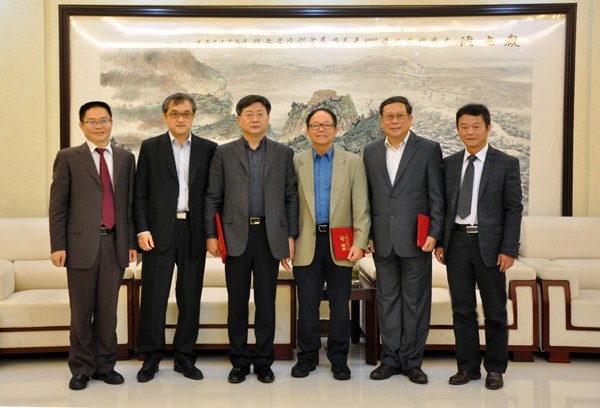 On the ceremony, XU Wu expressed welcome and thanks to the committee. During the discussion, he introduced the work and strategy planning of the university. They discussed how to make strategic planning for discipline development, international cooperation, faculty development and talent cultivation to improve the competiveness and to promote the School to be a first-class business school in the world.
Biography of IAC members: 
Prof. Christopher Tang
Christopher Tang is a UCLA Distinguished Professor and the holder of the Edward W. Carter Chain in Business Administration. He joined UCLA in 1985 and served as Senior Associate Dean and Chairman from 1998 to 2002, Dean of the Business School at the National University of Singapore from 2002 to 2004, and Senior Advisor to the President of National University of Singapore from 2000 to 2002. Currently, he serves as President of the Production and Operations Management Society (2013-2104) and as Chairman of the Advisory Board of the Hong Kong Polytechnic University Business School (2012-2015). He has served as a member of the International Advisory Board of the Hong Kong City University Business School (2009-2012), and as an external reviewer of the Columbia-London Business School-Hong Kong University Executive MBA program (2009) as well as the Chinese University of Hong Kong Executive MBA program (2009-2012). 

Prof. Kwok Kee Wei
Dr Wei is a Chair Professor of Information Systems at the College of Business at the City University of Hong Kong. He was Dean (2007 to 2012) of the College of Business and the Head (2002-2007) of the Department of Information Systems. He is Fellow of the Association of Information Systems (AIS) and he was the President of that Association in 2003/4.

Dr Wei is serving on the Series Editorial Advisory Board of Idea Group Publishing/Information Science Publishing and on the Editorial Boards of a good number of international journals including the IEEE Transactions on Engineering Management. He has served as Senior Editor of MIS Quarterly and Associate Editor of Information Systems Research. He has also played major roles in ICIS and PACIS. As an excellent educator, his doctoral students have attained placements in good universities worldwide.

Dr Wei has published more than 200 journal and conference papers. Based on Scopus, his works have been cited over 4750 times and his h-index is 32 (as at Sep 2015). He is actively pursuing research on e-commerce, knowledge management and supply chain management systems.

Prof. TEO, Chung Piaw
TEO , Chung Piaw is a professor and the Chair of Department of Decision Science of National University of Singapore. He serves as editor or subeditor of Operations Research, Management Science, IIE Transactions, Naval Research Logistics and so on. He is a member of review committee of "Fudan Management Outstanding Achievement Award". He promoted the cooperation with MIT and made a great contribution in improving NUS's international impact when he served as vice dean of Business School of National University of Singapore.