On 21-23 March 2016, AMBA Global Conference 2016 was held in Venice, Italy with the key topics of Globalisation, Sustainability, Digital Learning and employability. More than 400 representatives from over 200 institutions attended the conference, with about 40 representatives from 22 Chinese universities. As representatives of a newly accredited school, CAO Weilin, vice dean of School of Management, USTC and DING Bin, assistant dean participated the conference.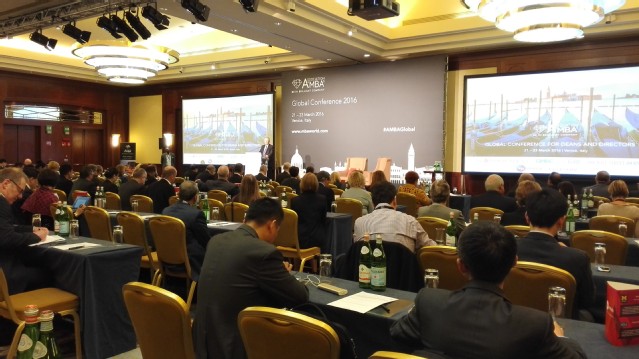 Milestone Awards were issued by the Association to celebrate the on-going achievements of accredited business schools, and the Accreditation Certificates were given to the newly accredited schools. CAO Weilin and DING Bin received the certificate from AMBA Chief Executive Andrew Main Wilson.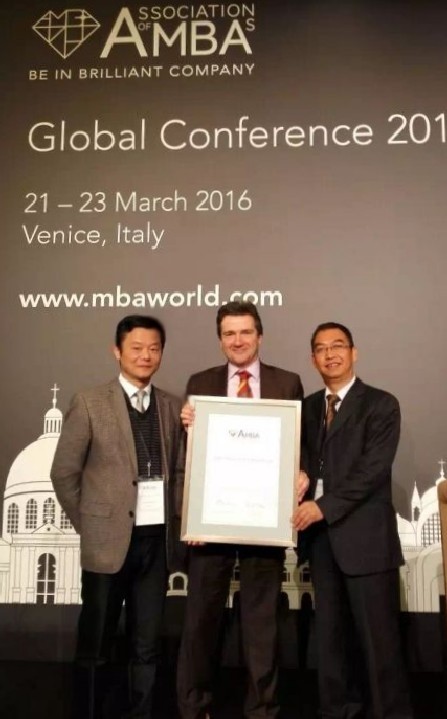 Next, Hikmet Ersek, CEO of Western Union, Clancy Childs, Chief Product and Technology Officer of Dow Jones, Karen Quanborough, Recruitment Senior Manager at Accenture and some leaders from top business schools from all over the world gave keynote speeches and shared their experiences. On the Latin America – China Forum, over 40 business schools explored the international exchange and collaboration potential between Latin America and China. CAO Weilin and DING Bin spoke on behalf of the School of Management.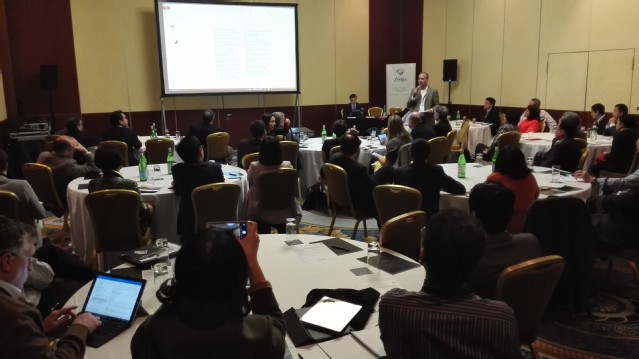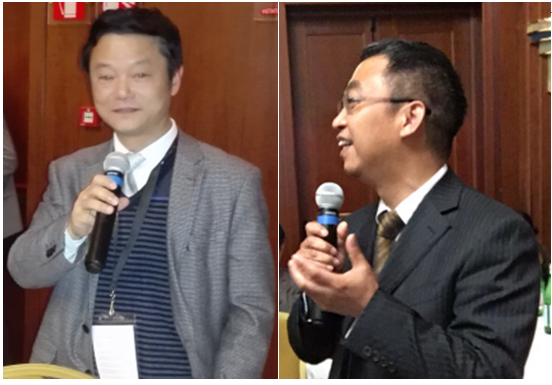 The Association of MBAs, founded in 1967, is one of the three international accreditation systems, and the other two are AACSB and EQUIS. AMBA is the impartial authority on postgraduate management education and is committed to raising its profile and quality standards internationally for the benefit of business schools, students and alumni and employers. The accreditation service is the global standard for all MBA, DBA and Master's degrees, currently accrediting programmes from the top 2% of business schools in over 70 countries. It connects MBA students and graduates, accredited business schools and MBA employers throughout the world. It produces a rich body of reports exploring global trends in the sector and drivers of thought leadership. Networking opportunities online and in person are offered across all continents with corporate partners, alongside access to a database of career advice and knowledge and an MBA jobs portal. Students and alumni of accredited business schools are provided with access to a range of exclusive services and benefits, including superior world-class events and training.
The School of Management started AMBA accreditation from the beginning of 2015. It passed the pre-assessment in late July. On 13-15 September, AMBA accreditation panel conducted an on-site visit to the School for MBA and EMBA programs. Through tour of facilities, reviewing of documents, meetings with faculty, students, alumina and employers, the accreditation panel spoke highly of our MBA and EMBA programs and recommended the school as an accredited one to the committee with a re-accreditation cycle of 5 years. The School is the fifth in Mainland China who has both AACSB and AMBA accreditations.